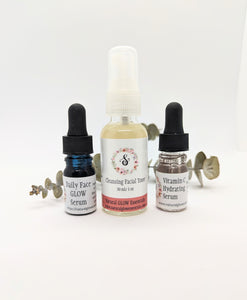 Are travel plans in your future? Make sure to pack your favorite natural face care staples, perfectly sized for taking on the plane or camping light!
30ml Cleansing Facial Toner
Helps to remove excess dirt, traces of oil and makeup, corrects and balances the pH of your skin and helps control acne, by cleansing and closing your pores.
Ingredients: Distilled Water, Witch Hazel, Rose Floral Water, Organic Apple Cider Vinegar, Frankincense, Lavender, Tea Tree and Patchouli therapeutic grade essential oils.
5 ml Daily Face GLOW Serum
Perfect for day use, keeping your skin feeling soft and hydrated, but not greasy, while helping to prevent fine lines and wrinkles.
Ingredients: Grapeseed oil, Rosehip seed oil, Blue Tansy, Copaiba and Frankincense therapeutic grade essential oils.
5ml Vitamin C Hydrating Serum
This night time serum hydrates, softens, brightens and promotes healthy collagen production while preventing collagen loss.
*This serum is recommend for night time use only as lemon essential oil is photosensitive.
Ingredients: Marula oil, Blueberry Seed oil, Passion Fruit oil, Lemon and Ylang Ylang therapeutic grade essential oils.